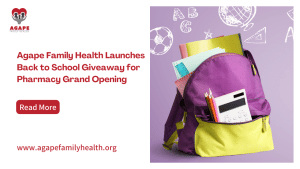 On August 6th, Agape Family Health Pharmacy will be giving away free school supplies to celebrate its grand opening from 9 AM to 4 PM at 1680 Dunne Ave., Jacksonville, Florida. 
The giveaway is open to all children in the community, and each child will receive school supplies such as pencils, pens, paper, notebooks, and food. Agape Family Health Pharmacy is committed to serving the community and is excited to help families prepare for the new school year.
Agape Family Health Pharmacy Grand Opening
Our new pharmacy is now open and we are celebrating with a special event! On Saturday, August 6th, come in for back-to-school physicals. This is a great opportunity to get your child vaccinated and up-to-date on their physical health before the new school year begins. 
We will also be giving away school supplies to help our community get ready for the upcoming academic year. We are also offering HIV testing and Covid vaccines to our patients. We believe that everyone deserves access to quality healthcare, and we are committed to providing a safe and welcoming environment for all. 
Our experienced staff will work with you to ensure that you receive the care and treatment that you need. We hope that you will visit us soon and take advantage of our many services. So join us on Saturday, August 6th for our grand opening celebration! We look forward to seeing you there.
We encourage everyone to pre-register for the event by calling 904 490 9991 or visiting our website. This will help ensure that the event goes smoothly and that everyone who wants to attend can do so. We look forward to seeing you there and celebrating this momentous occasion!